A building process based on
trust, credibility and stability
Founded on strong values and a relentless focus on quality from concept to commissioning, FB Gruppen A/S (FB Group A/S) delivers homes and projects engaging the local community and contributing to modern urban development.
Since 2003, FB Gruppen A/S has developed homes and contributed to urban district projects in Greater Copenhagen area and a range of towns in the eastern part of Denmark. We develop all types of properties from owner-occupied and cooperative homes to renter-occupied homes.
Founded on strong values
Our ambition is to design urban districts and homes, which make all involved parties proud. The top priority of all FB Gruppen's projects is a high-level building standard with focus on aesthetics, sustainability, communities and sound finances.
Such values have won FB Gruppen several architectural awards and recommendations – among these the high-rise Amaryllis House in the urban district Grønttorvet. At the City of Copenhagen's annual building award ceremony, it won an award in the " newbuilding" category and also won the annual Citizens' A ward. In 2020 FB Gruppen received the Developer Price by Building Awards for the urban development of Grønttorvet.
Stability and dialogue ensure results
To uphold the high quality, FB Gruppen develops and realizes our projects in close cooperation with hand-picked consultants and partners, most of them year-long close partners. Buildings are constructed as contracts for separate works with known sub-contractors who share FB Gruppen's approach to quality and services.
The methodical approach to any project has forged a constructive and trusting dialogue with authorities and political decision-makers who view FB Gruppen as a dedicated, credible and flexible partner, fulfilling local expectations to buildings and residential districts.
FB Gruppen's largest development project to date, Grønttorvet, is today Copenhagen's greenest district with 3,000 owner-occupied, co-operative and rental homes sprouting up in Valby. In addition, we are building several hundred homes in Holbæk, Nærheden, Ballerup, Ørestad Syd (Copenhagen) and Roskilde.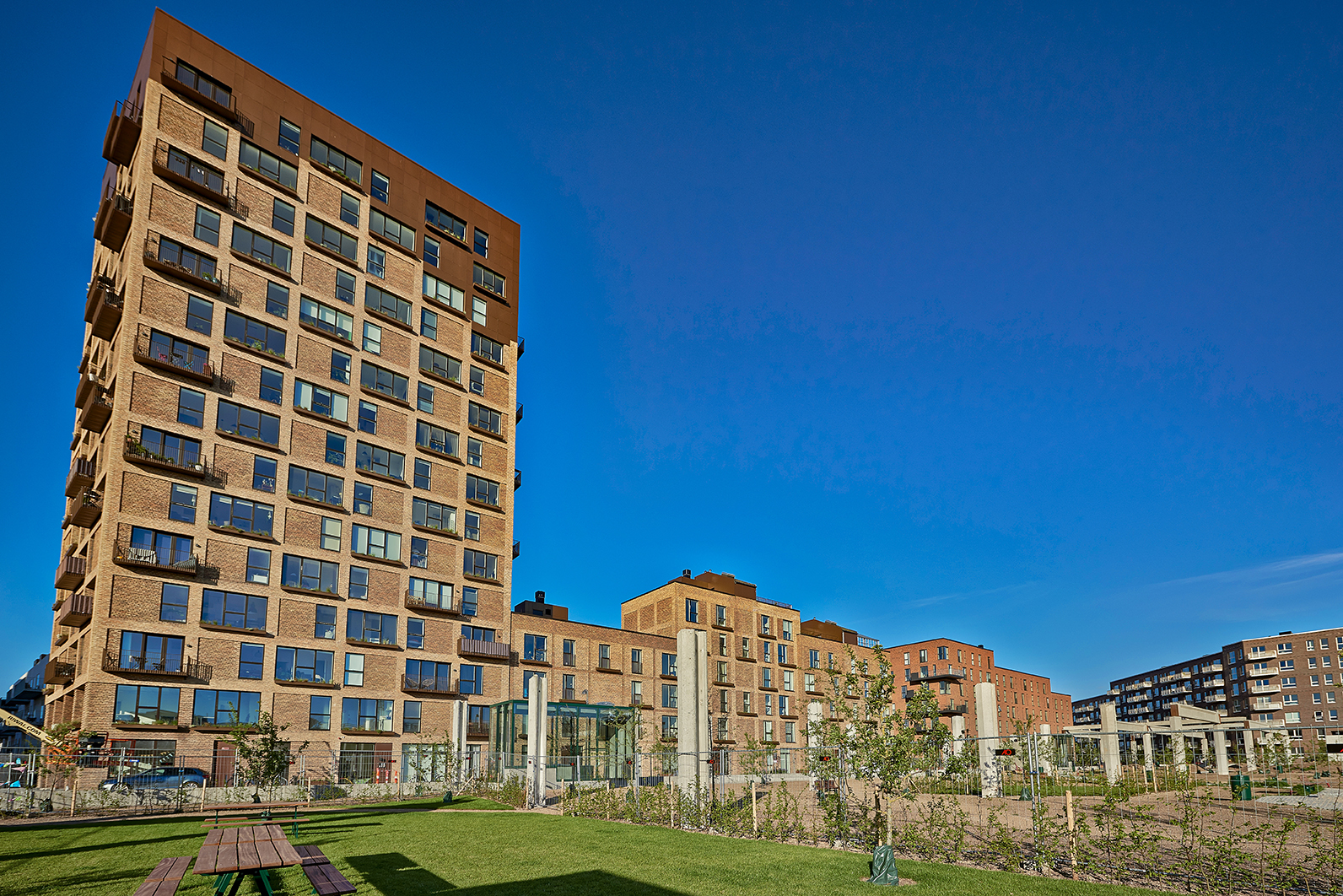 FB Gruppen A/S focuses on quality in our building projects – and several projects have received architectural awards and recommendations. Currently, the construction group is converting Copenhagen's historic flower and vegetable market, Grønttorvet, in the Valby district into a completely new, green district with a park of 23,000 sqm. and about 3,000 mixed home types, day-care facilities and light industry.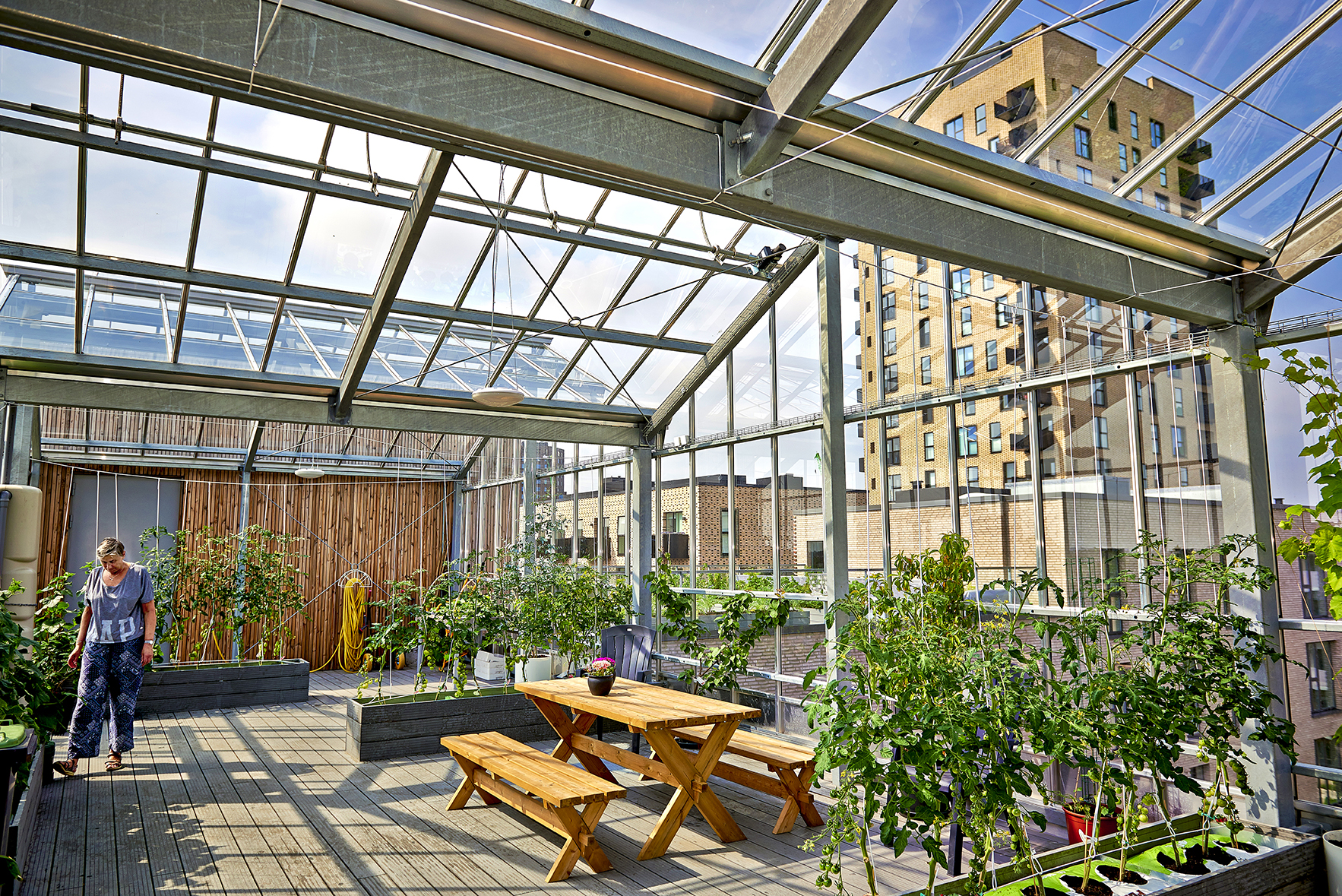 Sustainability is a cornerstone of FB Gruppen's values. Several of the houses in Grønttorvet have sedum roofs to take off pressure on the sewer systems, and greenhouses in which the residents can grow fruit, vegetables and herbs. In addition to sustainability, FB Gruppen's values also boost social and local communities – and new buildings are typically certified DGNB Gold.
Well-balanced risk profile
Every year FB Gruppen deliveres 800-1,000 homes totalling an annual value of about DKK 1,5-2.5bn.
Many of FB Gruppen's buildings come about through cooperation with Danish pension funds and international investors, who have purchased a number of the group's projects, a fact disseminated by means of a targeted media strategy and earning positive mention in relevant media. In any project, 60% of ongoing home projects are sold before the actual construction starts. This is a deliberate choice reflecting the group's conservative risk profile.
Large-scale project development
In 2015, FB Gruppen cut the first sod in Grønttorvet, where the historic industrial area was set to be converted into a mixed district with close to 3,000 homes at a total value of almost DKK 6bn. In addition to homes, the project also constructs day-care facilities, cafés and shops, setting the frame for communities spanning generations. It also encompasses a park of 23,000 sqm. with fruit trees and bushes.
In addition to the urban district project of Grønttorvet in Valby, we are building the first 450 homes in a scope of 1,100 homes in Holbæk Have, downtown Holbæk city – and 1,800 homes in Nærheden, a new suburb of Copenhagen in the western part of Høje-Taastrup Municipality. Futhermore we are developing residential homes in Ballerup, Ørestad Syd (Copenhagen), Gentofte and Roskilde.
FB Gruppen teams up with a long-standing group of partners and is renowned for delivering projects at the agreed deadline – a factor that instils trust and credibility in investors, authorities and political decision-makers.